During total knee replacement (TKR) surgery, Dr. Paul Jacob utilizes sensor technology called VERASENSE during total knee replacement (TKR) surgery. This technology helps Dr. Jacob by providing real-time data during surgery that allows him to make important decisions to better balance your knee and customize your implant position. Improper soft tissue balance and implant position may result in premature implant failure and the need for revision surgery in the future.
Before VERASENSE, surgeons used their best judgment to "feel" whether or not your knee is balanced during knee replacement. With VERASENSE, surgeons now have data that quantifies soft tissue balance, allowing them to improve knee balance more consistently from patient to patient.
Benefits of a Better Balanced Knee

When compared to patients who underwent
traditional TKR, VERASENSE patients have experienced:
Less Pain
Quicker return to normal activity
Improved knee function
Improved patient satisfaction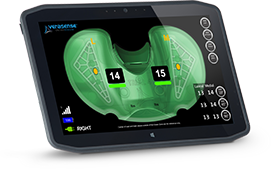 During your total knee replacement, your surgeon uses VERASENSE to replace the standard tibial trial spacer. The sensor sends data wirelessly to a monitor in the operating room, which assists your surgeon in making soft tissue adjustments and customizing implant position to improve the balance of your knee.
VERASENSE may be used in both primary and revision total knee replacement. For more information about the use of VERASENSE in total knee replacement or to schedule an appointment, call
To learn more about the latest clinical outcomes using VERASENSE, visit www.OrthoSensor.com
References:
Parratte S, Pagnano MW. Instability after total knee arthroplasty. J Bone Joint Surg Am 2008; 90: 184–94.
Lombardi AV Jr1, Berend KR1, Adams JB1. Why knee replacements fail in 2013: patient, surgeon, or implant? Bone Joint J. 2014 Nov;96-B(11 Supple A):101-4.
Bozic KJ, Kurtz SM, Lau E, Ong K, Chiu V, Vail TP, Rubash HE, Berry DJ. The epidemiology of revision total knee arthroplasty in the United States. Clin Orthop Relat Res.2010; 468(1):45–51.
Rodriguez-Merchan, EC. Instability Following Total Knee Arthroplasty. HSS J. Oct 2011; 7(3): 273–278.
Gustke K, et al. Increased Patient Satisfaction After Total Knee replacement using sensor-guided technology. Bone Joint J. 2014 Oct;96-B(10):1333- 8.
Gustke KA, et al. Primary TKA patients with Quantifiably Balanced Soft-Tissue Achieve Significant Clinical Gains Sooner than Unbalanced Patients. Adv Orthop. 2014:628695.
Gustke, K., Golladay, G., Roche, M., Elson, L., Jerry, G., Anderson, C. The Satisfied Total Knee Replacement Patient: 3-Year Multicenter Study. EC Orthopedics 9.3 (2018): 122-127.
Gustke KA, Golladay GJ, Roche MW, Elson LC, Anderson CR. A new method for defining balance: promising short-term clinical outcomes of sensor-guided TKA. J Arthroplasty 2014;29:955–960.